Charity Weekender 2012



An idea that's been in my head for years finally came to life on the 28th/29th of August 2012, a weekender, with a night time drift demo battle,and a free style drift day on the Sunday.
As ever the response to anything we do at norfolk was outstanding and excitement levels almost off the scale.
We desided on a local to King's Lynn based charity, and with the blessing of the stadium owners started to plan our event,

We invited the BDC drivers along and the response was way above the numbers we could handle
so with that in mind we decided that we would take a few from each class, ie: semi pro, pro, and super pro, and then just throw them all in at the deep end, we also have a few drivers that started with us at norfolk and have gone onto BDC, the day was for our regulars, we had 50 cars and the day went well, during the day we picked several drivers to do the payed passenger rides in the evening.
The evening started at 5.45 and was for members of the public to have a fast passenger ride around the norfolk arena, £5 for 4 laps and all monies going to the charity, we did offer the drivers a few £'s towards their tyres and fuel but EVERY driver refused and even added to the funds them selves as did the BDC drivers that were invited to do the evening demo's, so the norfolk spirit lives on.
The twin battles were pulled from the hat at the drivers briefing and it did make for some great entertainment, normally due to H&S drivers are very limited to what they can do, for our event as it was a demo, we cleared the track of all personnel and made them do a few do-nuts and burn outs for the very good crowd that had come along to watch.
The battles were as good as any i have seen this year and the drivers really did put on a great show, we even had our good friend Chunk out against super pro Wayne Keeber for the second year on the spin, and again in the standard BMW E30 he still made a great 'battle' of it.

In the end the final was between Car Media sponsored wayne Keeber and the likeable retro driver Marc 'you bend it i fix it' Huxley.
there are few words that i can say that the vids would not show better so we will post them up,
If you were there, thank you, if you were not there, Don't Miss It Next Year, because it was a blast, and we will go for it again next year.

the staff were magnificent, and a massive thank you to them,
and again if it was not for the owners.......... we all thank you.


Scotty's Little Soldiers Charity Event


one of many write ups for the weekender,



At the weekend (28th July) VarrsToen and driver Gary Hughes were really pleased to go to the Scotty's Little Soldiers charity event at Norfolk Arena.


Scotty's Little Soldiers is a Charity set up to support the young children who have lost parents whilst serving for the British Armed Forces.


Norfolk Arena organised the Fun drifting event which went back to what the sport is all about, going out there sideways and having a good time! Some of the UK's top drifters were in attendance including several locals, all there for the same reason, to have fun and help raise money for this worth while cause!


The evening featured Twin Drifting battles from some of the UK's top professional drivers. Speedway riders from Kings Lynn Stars & Young Stars along with players from Kings Lynn Town Football Club for photographs and autograph sessions. There was also displays from Norfolk 4×4 club, RC Drifting (remote controlled drift cars), open pits so everyone was able to see all the cars up close and meet the drivers, Trade stands, BBQ's, Bouncy Castle's for the kids and a late night bar & disco.


With a free entry and passenger riders for donations it was a brilliant event set up for a brilliant charity. 100% of the money raised went directly to the charity! A big Thanks goes to stadium owner Buster Chapman for opening up Norfolk Arena, FOR FREE, and hosting this event!
Event if you missed then event and would like to make a donation to a worth while charity, or just want to find out more about what they do, head over to their website atwww.scottyslittlesoldiers.co.uk
If you want to have a look at more of the photos from the weekend including a drifting volvo pickup(!) then head over to their facebook page at www.facebook.com/scottyslittlesoldiers and give them a like!
Very Happy to have been a part of this weekend. <3 -Sherry Fain. Pictures below.
For More Pics.. please link over to my FB page..
Here.
Posted on 31. Jul, 2012 by Simon Binner in The Scene
Last weekends charity drift event brought the already large drifting community together in spectacular format all in the name of charity. Hosted for Scotty's Little Soldiers, a charity which aims to offer a respite in the form of trips and activities for families who have sadly lost a loved one due to conflict this was a great way to raise money. Kicking off around 5PM in the evening on Saturday, we arrived slightly earlier around 3PM to catch up with our sponsored Super-Pro driver, Wayne Keeber who had already got involved in the action and was regularly going out on the Norfolk infield to practise around the course (not to mention give him a new present in the form of a new Pipercross Air Filter) for his BDC Toyota Soarer.
By the time it got to 5PM, the stands were filling up and public spectators were coming through the gates to take advantage of a great evening. Both Super-Pro and aspiring drifters alike all evening were taking people out around the Norfolk track for a taste of what drifting is all about. Each run was charged at £5 and all proceeding went straight to charity, everyone was a winner!
After a break from the action, along with Norfolks best BBQ burgers the Pro & Super-Pro drivers were out giving a BDC demonstration running in tandem within just feet of each other which the crowd loved. Watching the skill involved and precision of all of the drivers involved was staggering and it just goes to show why so many people get into this addictive sport. I'm sure everyone walked away from the event flicking on Pistonheads & eBay for cheap drift cars or wanting return to another event as soon as possible.
Once the BDC tandems had a break, a different variety of vehicle of the small type came onto track. These were small go kart style buggies which are used for stock car tracks completely tore up the track and even I was shocked at the speed. Although not quite going to plan by driving on the outside ring and creating a thick dust fog nearly choking everyone, it was good fun once they were racing around the tarmac inside ring. It was definitely a great way to break up the day from drifting and gave all of the drivers a well deserved rest from all of the public runs they were doing.
The final rounds in the evening went down to a knock out stage for an overall winner of the BDC demonstrations. The action did get slightly more competitive than anticipated which led to a knock between Wayne Keeber and Steve "Baggsy" Biagioni in a borrowed R32 Skyline after Baggsy overcooked and span. Fingers crossed the car can be repaired back before the next round of the British Drift Championship.
After a battle for first & second place, Marc Huxley edged the win in his SR20 powered Toyota Corolla followed by Wayne Keeber. The event standings were:
1. Marc Huxley – SR20 KE70 Toyota Corolla
2. Wayne Keeber – Toyota Soarer
3. Kirsty Widdrington – Nissan Silvia PS13
All in all this was an awesome evening, everything went as smooth as could be and we'll definitely be back in future if another one is held. Did you attend the event? What did you think of it?
If you love drifting, don't forget to attend Round 4 of the British Drift Championshipwhich is being held on 11th & 12th of August at Lydden Hill, Kent.
Don't forget, if you enjoyed this blog, you can find the full image set over on our Facebook page here too!
Simon B
And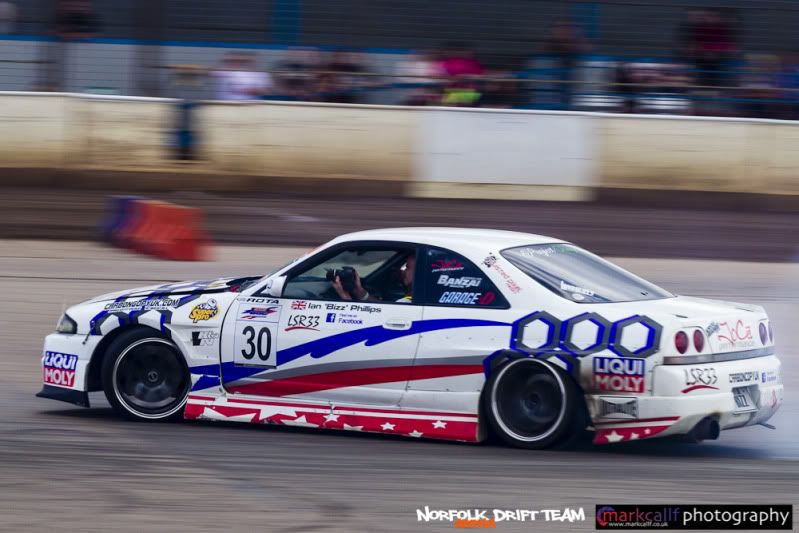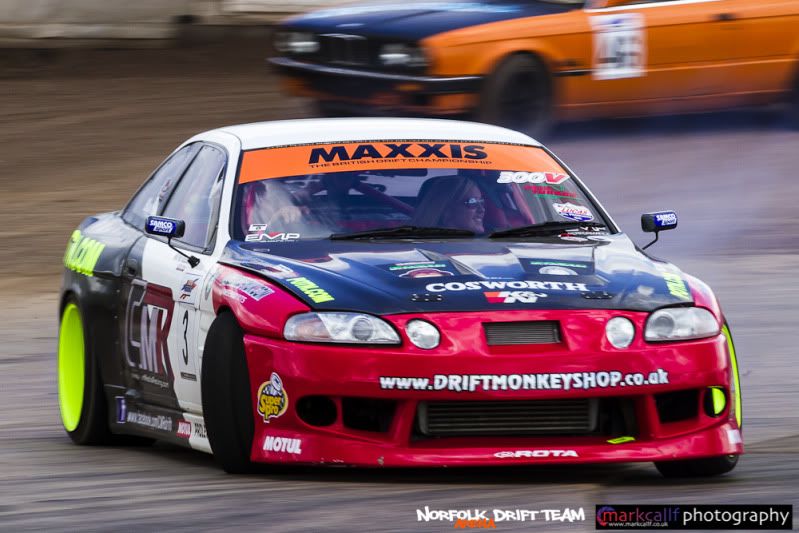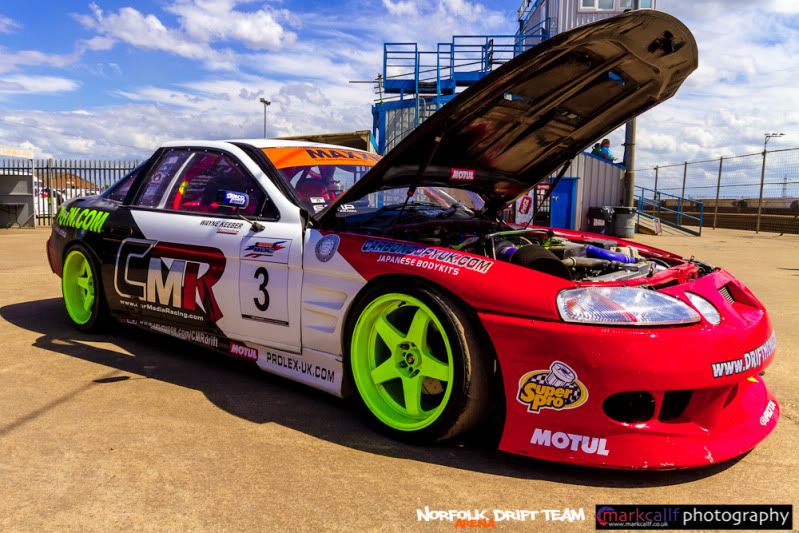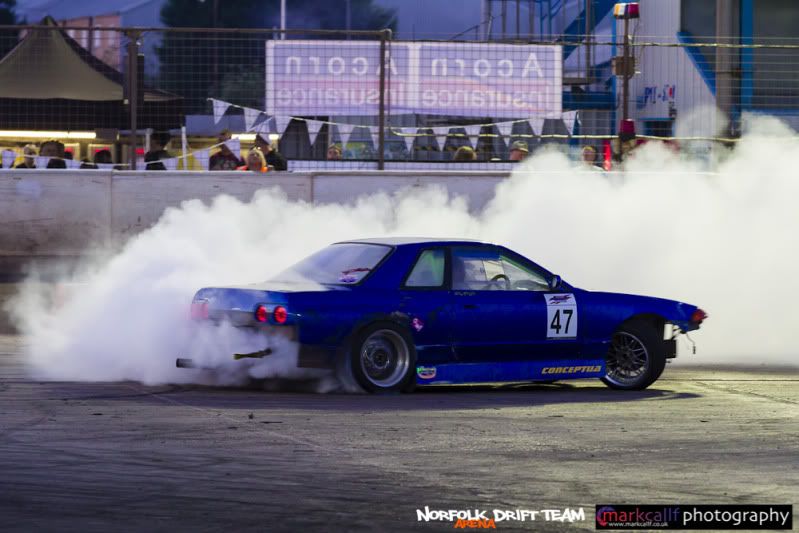 And more to come soon

norfolk weekender 2013, plans are under way. Malx